Lost Silver Trail Guidebook and Waypoints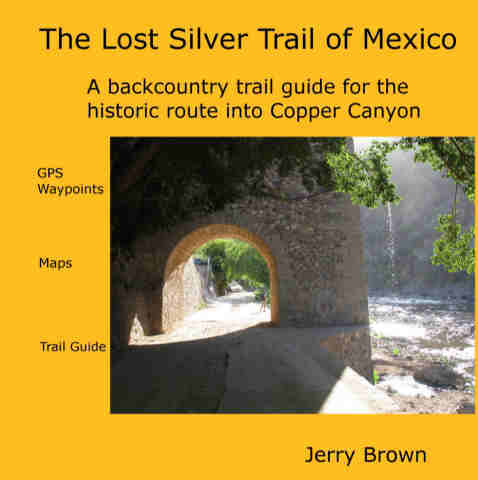 UTM gridded map drawings for the entire route.
Detailed directions
Printed gps coordinates for 233 waypoints along the route. (UTM Mexico NAD27)
$30.50

Silver Trail Guidebook $30.50
Don't just rely on the guidebook! Get a set of full sized Mexican Topographic maps to be able to accurately locate your position along the trail. There are a total of six maps required. The maps needed are listed at the beginning of each Segment chapter in the guide.
Click her to go to Mexico Maps.Com for Mexican Topographic Maps
Silver Trail Waypoint files in Garmin Mapsource and Magellan MapSend formats $11
Zipped file containing Garmin .gdb and Magellan MapSend ..wpt formatted waypoints. The files will be sent to you via an e-mail attachment. All 233 waypoints for the trail are included in the files for ease of loading in your GPS receiver from a PC.
If your GPS is not one of these two you can probably convert these files with Babel (free)
Purchase Silver Trail Waypoints $11.00
Look here for any corrections to or added information for the guide