Download Page for Free Colorado Trail and Continental Divide Trail Waypoint files.
Our efforts on behalf of The Colorado Trail are 100% pro bono. This has included three end to end GPS surveys of the trail, production of Mapbooks, and assistance with the creation of guidebooks.
Keeping maps and waypoints up to date and available to users is not without substantial costs. Our expenses include state of the art GPS gear, field time, website costs, and considerable amounts of office labor. Please contribute something to help keep this effort going. (If you donate you will be returned to this page.)
Here is a step by step tutorial on how to install free background maps from the internet on a Garmin GPS
A tutorial on how to install files in a GPS is here. (Use the back button to return to this page.)
IMPORTANT!! READ THIS FIRST!!

We have recently received a few calls from hikers who have loaded the entire CDT waypoint database into their Garmin GPS units, then get out on the trail and can not access them after they have begun their hike. Even though your GPS may have enough memory to hold the entire waypoints database for the entire CDT it DOES NOT have the ability to use them all !!!

This limit does not apply to POI's. I strongly encourage you to avoid this problem by using POI's instead of waypoints. The entire CDT database of over 8,800 waypoints will fit and work in POI format.
If you are downloading .gpx files, be aware that the download file is a compressed .zip file. This is done to preserve the integrity of the enclosed file and because .gpx files download as text documents on many computers. You need to open the .zip file and extract the enclosed .gpx file to a folder on your computer. At that point it will behave as a .gpx file. The ability to extract zip files is built into modern Mac and PC operating systems. Search on the internet to learn more.
Information on the capacities and specifications of various Garmin GPS receivers is here
Information Explaining the Waypoint Letter Coding is here
Click the links below to download the waypoints.
Colorado Trail:
NEW! - the 2020 Waypoint Database has been expanded and changed. The mile markers in previous editions have been re-named to be compatible with newer, high capacity GPS units. The annotations match the new 2020 Colorado Trail Mapbook.
Colorado Trail waypoints in .gpx format (Updated 01/2020 - Matches 2020 Mapbook Ver 11.0)
Colorado Trail waypoints in POI format (Updated 01_2020 - Matches 2020 Mapbook Ver 11.0)
Colorado Trail Bicycle Detours Waypoints in .gpx format. If you are bicycling the CDT you will have to detour around wilderness areas. Here are the waypoints for the bike detours. To do the entire trail on a bike, download the trail waypoints above plus this file. (Updated in 2020 - Matches 2020 Mapbook Ver 11.0)
Colorado Trail waypoints in .gpx format for InReach (500 waypoints) (Updated 06/2017 - Matches 2017 Mapbook Ver 10.0) - Very Condensed database For InReach Explorer. No Mile Markers and reduced water information. Uses old Waypoint names.
Colorado Trail waypoints in .gpx format The older version - Uses old Waypoint names - compatible with previous versions of the Mapbook. Last updated 12/2017 - Matches 2017 Mapbook Ver 10.0)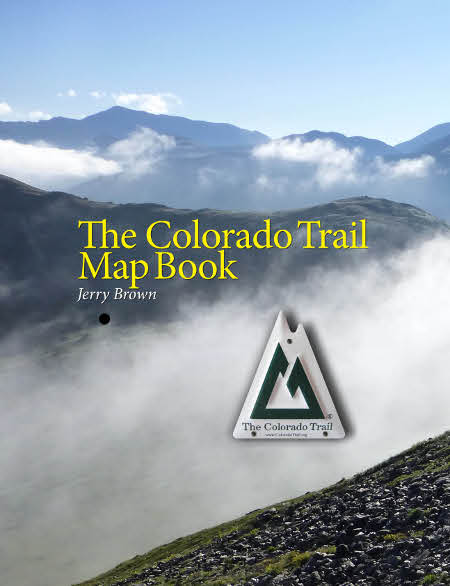 Click on image to go to publisher's sale page
Continental Divide Trail (gpx format)
Latest data set for 2020 hikers:
These are in the classic Waypoint format, and GPS receivers do not have the capacity to hold much more than one state at a time. This necessitates that data be reloaded multiple times from SD cards or via a PC attached to the GPS unit.
Continental Divide Trail waypoints for the entire CDT - GPX - broken down by state-includes the alternates (the latest - for 2020 season)
Continental Divide Trail (POI format - recommended for thru hikers)
This data set is highly recommended for thru hikers or others who are hiking more than one state. The POI format allows for the entire CDNST and alternates to be installed with little required maintenance along the way. If installed to the main memory of the GPS, no SD cards are needed. This frees up the SD card slot for installing Maps.
Continental Divide Trail waypoints for the entire CDT in POI format - includes the Alternates (the latest - for 2020 hiking season)
NOTE: If you are having trouble setting your GPS up, consider purchasing pre-programmed DVD or SD cards or our Autoloader application. Autoloader will install POI's, Waypoints, Tracks, and Map images to the internal memory on Garmin GPS receivers. It is available here at a nominal cost. Detailed information on how to use the Autoload Application is here.
Continental Divide Trail Alternate Routes (Updated for 2020 season)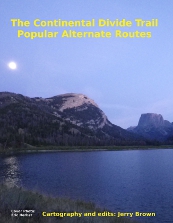 Click on image to go to publisher's sale page
Important notes about alternate routes: The Alternate Route maps and waypoints were created using a combination of hiker submitted track files captured with recreational GPS, USFS shape data, and data recently collected by us using our professional gear. Because of the multiple data sources, the lower accuracy of recreational GPS, and lack of control over how it was collected, the alternate route maps and waypoints are expected to be somewhat less accurate than those for the official route which was all collected using professional equipment under strict guidelines. To compensate for this, multiple tracks were used when available, and the data was carefully edited using aerial photography and other methods. Many users of the official route Mapbooks have reported that when using a GPS to navigate to intersections or other distinct features they are able to routinely close within 15 feet or so. I expect that distance to be greater using this data and would advise users to expect discrepancies of 50 to 100 feet in some places. If you find any gross errors, coding errors, etc., I would appreciate it if you gathered a new waypoint for the location and sent it to me when you get the chance. The gps should be set up in the WGS 84 datum, and held above head height whenever you collect a waypoint.
The Alternates waypoints are included in the files available above.
Routes included:
New Mexico
Columbus - Deming - Gila
Gila River
Walnut Creek - Silver City direct route to Gila River
Old road walk route to Pietown
Cebolla Wilderness
Bonita - Zuni canyon
Mt Taylor Summit
Ghost Ranch
Colorado
Creede Cutoff
Collegiate Peaks Low Route (newly opened high route may be impassable in early season)
Argentine Spine (is also in the CO Mapbook)
Silverthorne
Wyoming
Cirque of the Towers
Knapsack Col

Idaho / Montana
Mack's Inn
Anaconda
Spotted Bear (a popular alternate in the Bob Marshall Wilderness)
Dawson Pass (Glacier NP)